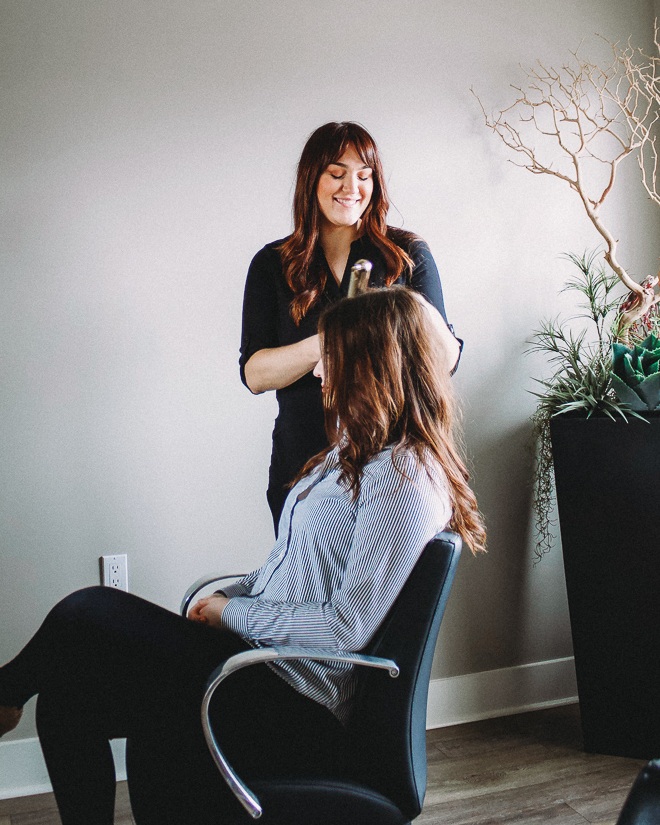 Rachelle, one of our senior stylist's here at Allure Hair Design and Spa, is always trying to learn what's new and up and coming in the hair industry. Rachelle has taken multiple classes with WELLA , Bumble and Bumble, and celebrity stylist Tracey Cunningham in order to improve and perfect her colour, balayage and up-do looks. Rachelle is a stylist that truly prides herself on attention to detail and meticulous work. When she is not at the salon, she loves to spend as much time as possible with her family and dogs.
Our resident fire ball of creativity, Amanda is our leader in creative colouring, and hair design. Her passion for learning has led her all over North America and Spain for education and experience. She is our Sebastian Advocate, and Great Length Extension Specialist. Amanda's energy and enthusiasm is contagious.
Recognized for her creative abilities and meticulous approach; Kristina keeps current with the latest fashions, styles, and techniques. She has attended several expert courses given by industry leaders including House of Bumble and TIGI academy in NYC. Kristina is known for formal styles for weddings, and special events, as well as her balayage colouring. She is accustomed to all manner of styles; whether you're looking for modern cuts, textured looks, brilliant colouring or intricate designs. Kristina prides herself on delivering customized solutions for her clients.
Meet Paola, our not so big boss lady! 17 years ago Paola, and her family decided to build a brand with a focus on luxury, quality, and sophistication. The Agostini's took one of Manotick's heritage buildings, and transformed it into a house of style. Allure is a labour of love for Paola, and her commitment to providing the best in staff, service, and atmosphere never falters.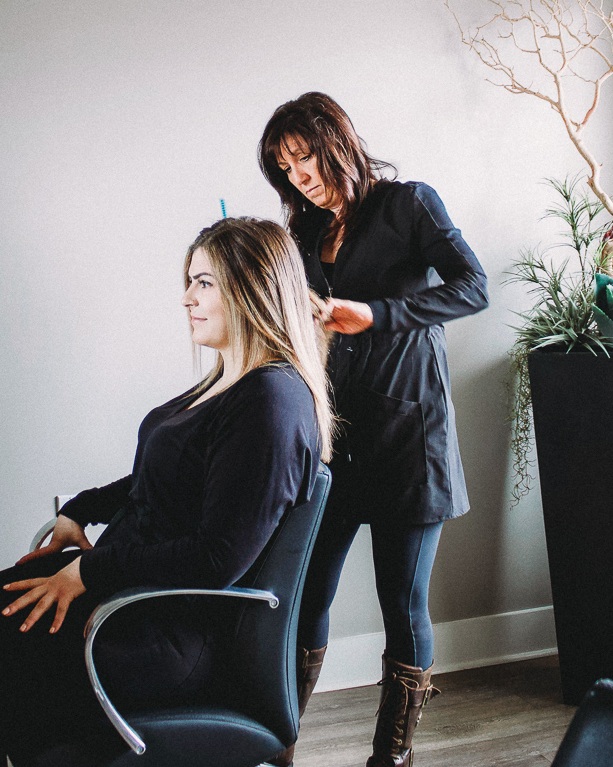 Meet Allures first employee, Debbie Rideout. With us since the beginning, Debbie has been a loyal, longstanding face at Allure. Her dedication to her clients and her investment in her work is second to none. Debbie strives to create hairstyles tailored to each clients lifestyle. Debbie prides herself on building trust with clients to form long standing relationships . Also, yes, that big bad Harley in the parking lot is hers!
Meet Micheline, our quiet masterful stylist. Micheline has been a part of the Allure family for 6 years. Her strong attention to detail shows in her work, as well as her commitment in delivering exceptional quality. Although she is not the most vocal in our bunch, when she laughs it fills the room!
We were thrilled when Elena joined our team as a senior stylist. Elena is a jack of all trades here at Allure. Her ability to handle all types of situations makes her talents invaluable. With a focus on precision cutting, Elena's work is always polished and beautiful.